If you look at the this page, you'll see the Featured Pages slider at the top. You can show Pages or Posts in this slider, and here's what you need to do to add it to your site.
So erstellen Sie Ihr festes Navigationsmenü, das ist das erklärte Ziel dieses Abschnittes.
If you go to an page on this site, and scroll down a bit, you'll notice a black navigation menu appear at the top of the page. It's really easy to create the menu, and the following steps will tell you how.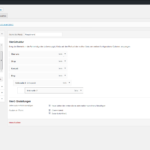 In your WP dashboard, click Appearance >> Menus, and create a new custom menu that you want to use as the fixed nav menu (you can also use an pre-existing menu if you like). After the menu has been created, you just need to assign it as the Fixed Navigation Bar in Theme Locations panel. If this panel is not visible, click the "Screen Options" tab in the upper right corner of the page, and check the field to activate it.